Lowe's is closing 20 stores in the United States!  Only 2 Locations Left in South Orange County!
Lowe's is closing the majority of its stores in Orange County!  A Lowe's company spokes person said on December 10th that it will close 20 stores in the United States as part of its plan to focus on its most profitable locations. Unfortunately this news hits Orange County residence especially hard because 2 of the 20 are located here in Tustin / Irvine and Aliso Viejo. Now South OC residence have to drive further to their closest Lowe's now in Rancho Santa Margarita or San Clemente!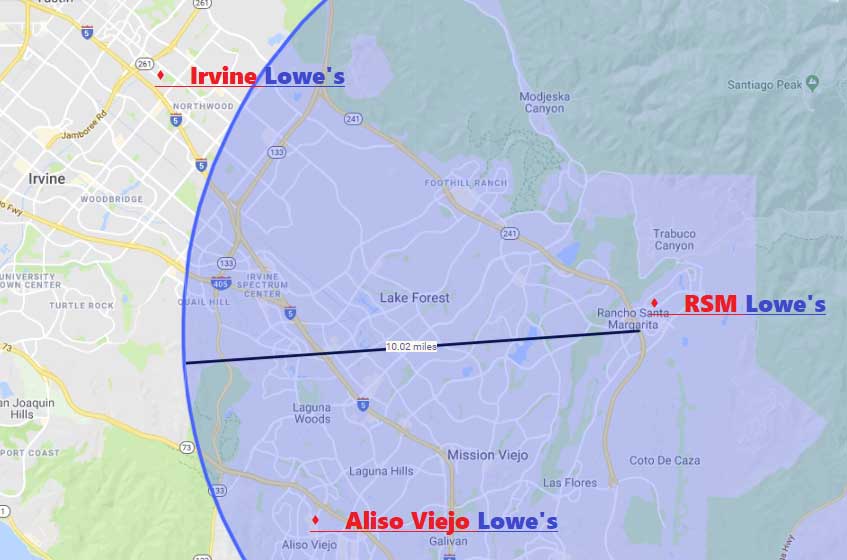 The primary reason Lowe's management decided to close 2 stores in Orange County
The primary reason Lowe's management decided to close 2 stores in Orange County is the fact that they consider stores with in 10 miles of each other to be redundant.  They don't want it's stores to compete with each other. Fortunately the Rancho Santa Margarita and San Clemente stores will be kept open.  I think the stores in Aliso Viejo and Irvine | Tustin must have more overhead and lower sales volume than the other stores.  
Driving Further to Lowe's
If you don't mind driving you can still go to a Lowe's, but you will probably pass one or two Home Depot locations on the way.  After the stores close I'll have to drive a ways to get to Lowe's so the only reason I will go to Lowe's is for items Home Depot doesn't carry.  That primarily means higher end hardware for me and not large items like lumber, dry wall, etc.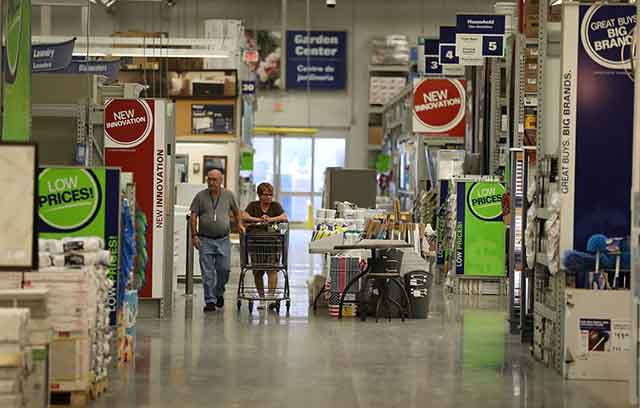 Lowe's May Have More Competition Online…
Unfortunately that puts Lowe's in the cross hairs of online retailers that also sells hardware like Amazon.com, Walmart.com and Target.com.  Getting caught between those giants is not a good place to be…   Not much else could get me to drive 10 miles out of my way to go to Lowe's.  So if the management at Lowe's reads this post – CARRY MORE HIGH END HARDWARE that's too expensive to ship.
Lowe's Says It Will Save Money and Employees
I spoke with one of the employees at the Aliso Viejo location and he said the store will be shuttered in mid January. If you buy anything your receipt will be stamped "No Returns" because Lowe's has already agreed to a contract with Hilco Merchant Resources to liquidate the inventory at the closing stores by February 1st 2019, which is the end of its fiscal year.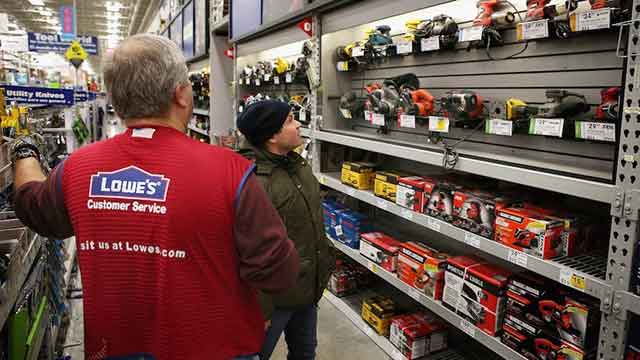 Lowe's says that the majority of the stores being closed are within 10 miles of another store. So most employees of the United States stores being closed will be provided the opportunity to have similar jobs at nearby stores.  Lowe's expects the impact of the closures on fiscal 2018 earnings to be 28 cents a share to 34 cents a share, which based on 808.3 million shares outstanding as of Aug. 31 would imply $226.3 million to $274.8 million.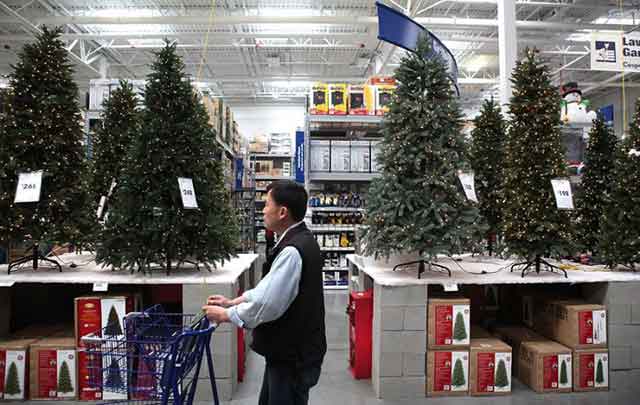 Why I think Lowe's Will Stay In Business
I believe Lowes and Home Depot will stay in business because both stores sell lots of things people don't usually buy online. But The Home Depot will continue to do more business primarily becasue it has more and better locations than Lowe's. 
Here is the list of stores being closed, provided by Lowe's:
State
City
Address
Store number
Alabama
Graysville
1100 Bankhead Hwy SW
#3039
California
Aliso Viejo
26501 Aliso Creek Rd.
#1900
California
Irvine
13300 Jamboree Rd.
#769
California
South San Francisco
720 Dubuque Ave.
#2452
California
San Jose
750 Newhall Dr.
#2842
Connecticut
Orange
48 Boston Post Rd.
#621
Illinois
Granite City
1333 Schaefer Rd.
#3028
Illinois
Gurnee
7735 Grand Ave.
#1829
Indiana
Portage
6221 U.S. Hwy 6
#1778
Louisiana
New Orleans
5770 Read Blvd
#2690
Massachusetts
Quincy
599 Thomas Burgin Pkwy
#2267
Michigan
Burton
4274 E. Court St.
#761
Michigan
Flint
2100 T.A. Mansour Blvd
#669
Minnesota
Mankato
2015 Bassett Dr.
#2855
Missouri
Bridgeton
11974 Paul Mayer Ave.
#2299
Missouri
Florissant
3180 N. Hwy 67
#748
New York
New York
2008 Broadway
#3292
New York
New York
635-641 6th Ave.
#3293
Pennsylvania
Shippensburg
250 South Conestoga Dr.
#2816
Texas
Irving
3500 W. Airport Fwy
#1811
Canada
Province
City
Address
Store number
Alberta
Calgary
11520—24th Street SE
#62520
Alberta
Calgary
12330 Symons Valley Road NW
#62880
British Columbia
New Westminister
105-1015 Columbia Street
#61580
Newfoundland
Bay Roberts
239 Conception Bay
#22120
Newfoundland
Conception Bay
825 Conception Bay Hwy
#22040
Newfoundland
Goulds
53-59 Main Highway
#22030
Newfoundland
St. John's
66 O'Leary Ave.
#22070
Newfoundland
St. John's
1297 Topsail Rd.
#22010
Newfoundland
St. John's
710 Torbay Rd.
#22130
Ontario
Kingston
1452 Bath Rd.
#55310
Ontario
Lakefield
178 Water St.
#33140
Ontairo
Mississauga
1133 Dundas St.
#55430
Ontario
Mississauga
1692 Lakeshore Rd.
#55390
Ontario
North York
6600 Yonge St.
#3320
Ontario
Peterborough
1575 Chemong Rd.
#55520
Ontario
Sault Ste. Marie
132 Black Rd.
#33640
Ontario
Sault Ste. Marie
248 Northern Ave.
#3276
Ontario
Sudbury
943 Barry Downe Rd.
#33020
Quebec
Ange-Gardien
194, rue Principale
#43070
Quebec
Grandby
788, rue Moeller
#44060
Quebec
L'Assomption
723, boulevard L'Ange-Gardien
#44070
Quebec
Laval
134, boulevard Sainte-Rose
#44040
Quebec
Montreal
9200, boulevard Maurice-Duplessis
#43250
Quebec
Rouyn-Noranda
1200, rue Mantha
#43270
Quebec
Saint Elzear
100, rue du Parc Industriel
#43290
Quebec
Sainte-Clotilde-de-Chateauguay
335, Route 209
#44000
Quebec
Saint-Jean-sur-Richelieu
870, boulevard d'Iberville
#44110
Lowe's Companies
Everything you need to Improve Your Home Is On Sale!
If you want to spruce up your home for any reason now is a great time to go to the Lowe's Stores that are closing.  That's because some things are on sale at deep discounts!  Especially if you have decided to sell your home you want to do everything possible help your home show its best.  That's because small things make a big difference when selling and its even better when you can get the thing you need on sale!   You should consult with experts about a month before you want your home on the market.  Its always good to get expert advice to maximize the value of your home.  If you are thinking of selling we will be glad to help you at no cost so don't hesitate to contact us.