bureau of labor statistics
Planning to Sell Your Home in 2019?
Here Are 6 Reasons To Do It Soon!
My name is Grant Loel, I'm a multi-million dollar listing agent in Southern California.  This article will cover the general housing market conditions in the United States.  But I will also reflect upon my experience selling homes in Orange County California  to help sellers make good decisions for their unique situations. As we look forward to 2019 we have seen many experts predict values will continue increasing in the new year. However, most of these predictions were made before the huge stock market declines and the government shutdown.
Because of the economic and political turmoil, we see the potential for no appreciation in 2019 and possible declines in overall home values starting in late summer into 2020. But the market trend has been up for the majority of Orange County cities since 2011.  We have seen year over year declines in Newport Coast, Corona Del Mar, Laguna Beach,  Newport Beach (92663) and Trabuco Canyon / Coto De Caza, but increases in 11 other cities where the median price is now over $1,000,000.  This according to an Orange County Register story reporting on the increasing number of cities with median prices over a million dollars.  For homes priced under a million, sales volume has decreased but paradoxically values continue to increase. 2019 will be an exciting year in real estate to be sure but lower sales volume usually leads to lower prices. The market contradiction will not continue for long in my option. A market decline isn't guaranteed but people at the economist say we should prepare for an economic downturn just in case.
[Reason # 1 – Sell While Demand Is Still Strong]
The market demand for homes is still very strong across the country and in Orange County.  There are still more buyers than sellers.  The law of supply and demand tells us the price of scares resources increase until supply equals demand.  Prices have appreciated for the last 10 years and are predicted to continue. Higher prices have led the affordability index to lower levels not seen since the 2007 / 2008 crash. This is not true in every market but it's something potential sellers should be aware of in their market.  If your not sure what the affordability index is in your market don't hesitate to contact us.
Buyers and sellers need to be aware of the index because it signals that market conditions are right for a change.  Sellers need to know how to price their home correctly in the market so it gets the exposure required to sell at the highest possible price. This is not easy if your not an expert.
Translation: If your thinking about selling in 2019 don't wait because market declines could be right around the corner.
[Reason # 2 – Home Prices May Decline In The Second Half Of the Year]
The low supply of homes has kept prices higher in 2018.  The trend is expected to continue into the first half of 2019 provided interest rates don't increase too quickly and the United States's gross domestic product growth remains higher than 2.5%.  Higher GDP keeps people employed and secure in their homes. Keep in mind that certain types of "in-demand" homes will sell faster and receive higher offers.  Examples of in-demand homes are single story homes, homes with a bedroom and bath downstairs and 3 bedroom homes with an attached garage with interior access.
Translation; if your home fits the criteria of the type of a home more buyers want, then you can expect to a faster selling time, more and higher offers, when you are selling.  If you want to know if you have an in-demand home in your area don't hesitate to contact us.
[Reason # 3 – A lot of people can still afford to buy!]
As interest rates increase and prices rise more and more potential buyers will elect to stay out of the market. I think that's one reason the home sales volume has dropped in the last few months. Another is the housing affordability index, which is the percentage of average income families that can afford to purchase the median priced home in an area.  In Orange County the affordability index is at a 10 year low and its dropping. That's the lowest the index has been since the crash back in 2008.  No one knows how much lower the index can go.
The first 2 quarters of 2019 may be the last chance to sell at market highs…
[Reason # 4 – Lots of Millennial Buyers are Purchasing Homes]
Selling in 2019 most likely means selling to a younger millennial buyer,  These young professionals will often be grappling with student loans, low down payments and  higher interest rates.   These buyers are reluctant to take on more debt because they often have crippling student loan debt and are now hampered by rising interest rates and higher home prices.
Even with these conditions, millennial are choosing to buy because the of continuing to rent or staying under their parents roof are worse.  These first-time buyers are taking the home buying plunge in record numbers, and are a vital part of the buyer's market in 2019.  Contact us for a free copy of the 147 page 2018 Home Buyer and Seller Generational Trends Report.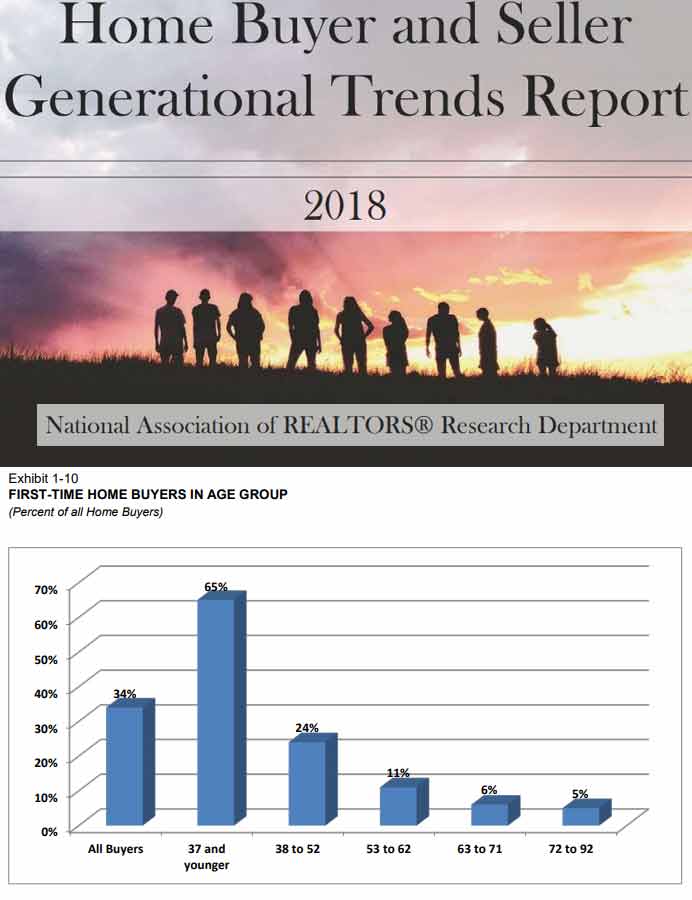 [Reason # 5 to sell in early in 2019 – Our Historically Low-Interest May Not Last Another Year]
Interest rates are not the lowest they have ever been but they are still at historic lows. The real estate market nationwide depends on low-interest rates to continue driving prices up.  And Orange County is no exception. Prices in the county are up approximately 20% over the last 3 years. And no one knows how much longer historically low-interest rates will be available.  That's because the Federal Reserve has been consistently and gradually increasing the prime interest rate for several years.   Low-interest rates loans are not the only reason prices are still at all-time highs but they are a big reason.  When rates move from historic lows to neutral many experts say real estate prices will stabilize.
I believe that without low-interest rates the market appreciation will not continue. An average rate of 5,5% or greater will cause the market to stabilize and decline if rates move even higher.  Rates are currently around 4.5%.  Keep a close eye on the rates and specifically on the 10-year bond (TNX).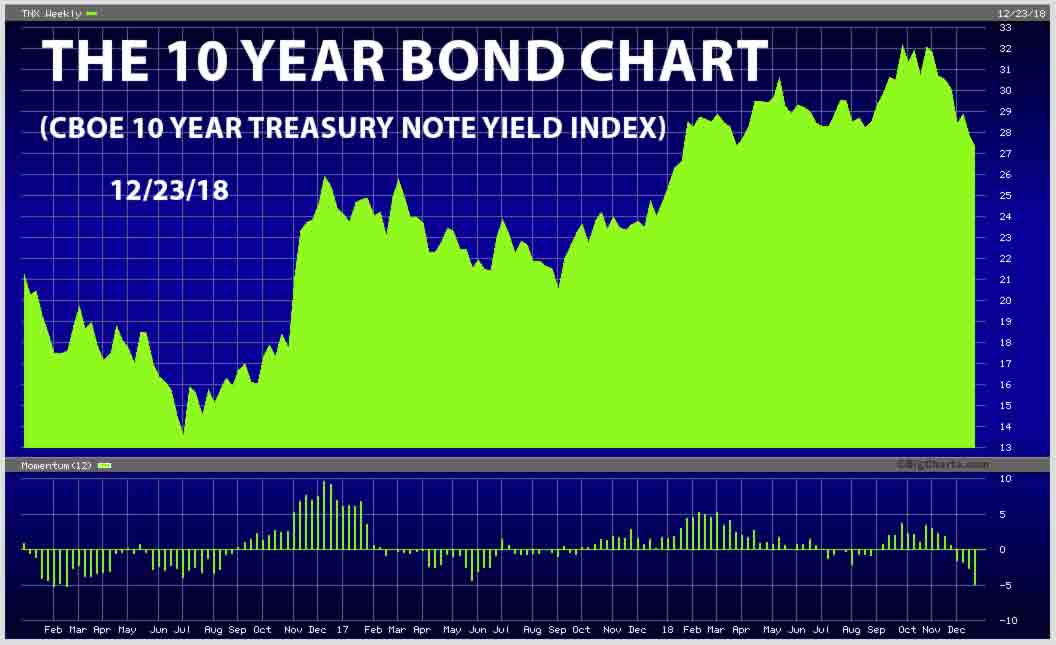 The 10 year bond is the rate most banks use to set the rate they offer to brokers and retail lenders.
Translation:  Smart sellers will put their homes on the market early in the year at prices equivalent, not above to the recent comparable sales. Click here for an accurate and free market analysis for your home.
https://youtu.be/sM53DDckbns
[Reason # 6 to sell in early in 2019 – You Can Increasing Your Home Value At Minimal Expense]
Its not expensive to prepare your home for sale.  After you have decided to sell your home, you want to do everything possible help your home show its best.  You will find small improvements will make your home show better without spending a lot money.  Obviously there is no guarantee but when your home show better you will tend to receive more and higher offers. You should consult with an expert (like me) about a month before you want your home on the market.  It's always good to get expert advice to maximize the value of your home before it on the market.  So, if you are thinking of selling we will be glad to help you at no cost or obligation so don't hesitate to contact us.