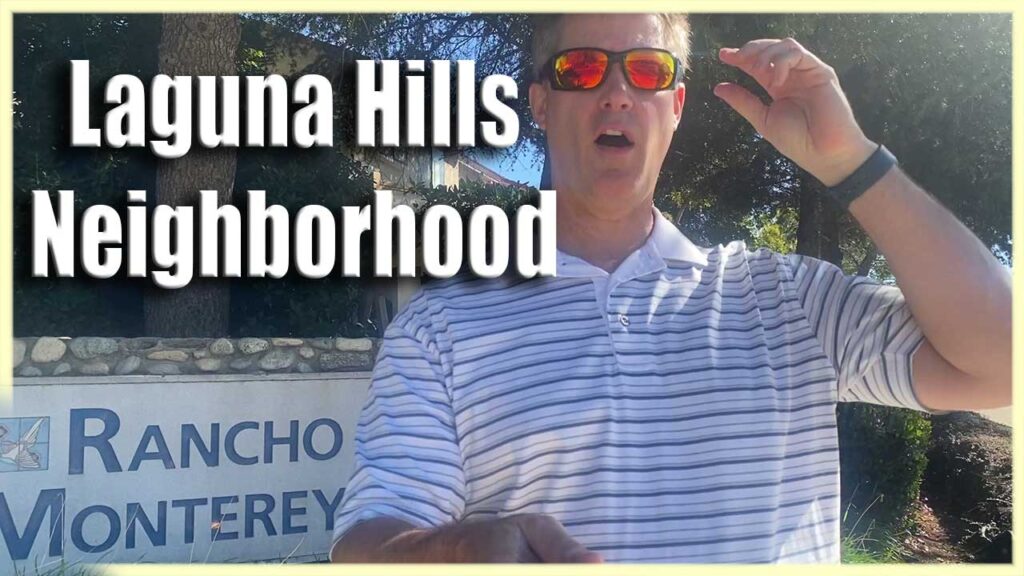 Neighborhood Tour Of Rancho Monterey
Location
Rancho Monterey is a neighborhood in Central Laguna Hills, California. Homes in Rancho Monterey range in size from a 2-bedroom 1 bath with 1056 square feet to a 3 bedroom, 2 and 1/2 bath with 1,535 square feet. Entry level prices are now just above $800,000 for the smaller town homes and peak just above $950,000 for the largest models in good condition with premium locations.
Community Layout
Most of the Town homes in this community are attached and share at least 1 wall but some are standalone homes. The buildings have both 1 and 2 stories, and all have small back yard patios and some people have even installed pools and spas in their back yards. Premium locations are in the back on the bluff with views overlooking the Via Lomas condos with Aliso Creek in the background. Another benefit of living in one of the condos in the back of the neighborhood on or near the bluff is that they have very little road noise from Indian Hill as long as you're not near Moulton Parkway. Indian Hill is a 2 lain road and it's a through fair to get from Laguna Hills Drive to Moulton Parkway. Moulton Parkway is a very busy super street with 6 lanes for heavy and fast-moving traffic. Youi don't want to live anywhere near Moulton Parkway. The homes in this community that back to Mouton Parkway have a lot of road noise and are the most road noise of any of the homes in the community. The most common type of parking in the community is the garage and parking space and there tends to be ample guest parking. Be sure to see where the neighborhood of Laguna Village is located in relation to all the neighborhoods in Laguna Hills by accessing our "Free Neighborhood Tour Maps Link".
Common Areas
Rancho Monterey has 2 Homeowners Associations. The Rancho Monterey Community Association fee is $352 and is paid monthly and there are several amenities including a pool, spa. The 2nd association is the Aliso Viejo Community Association, and the fee is currently $97 per quarter so that adds about $32 monthly to the $352 HOA cost for a total of $384 per month for HOA fees but there is no Mello-Roos and taxes are low. For the quarterly payment to the 2nd HOA residence enjoy a well-maintained parks and medians the closest of which is Sheep Hills Park adjacent to the community across Indian Hill Ln. There are several paths and trails leading from the park that go for miles all around Orange County.
Shopping, Transportation, Schools, Community Centers, Hospitals and Parks
The community is close to great schools including the Laguna Hills High School and Lomarena Elementary School. The Laguna Hills Community Center and Saddleback Medical Cneter |Hospital | MemorialCare are walking distance away. It's not far to the Irvine Spectrum, Laguna Beach, Aliso Town Center in Aliso Viejo, Laguna Niguel Regional Park in Laguna Niguel and major freeways such as Interstate 5 and the 405