Use Our Maps To Learn About Orange County Real Estate
The world is becoming more visual, and people are always trying to save time so search for your next home by using our neighborhood Tour Maps. See entire communities and all the neighborhoods in the community in less time than it takes to see one home in person!
Download free interactive community maps showing every neighborhood in the community by clicking the "Free Neighborhood Tour Maps Link". We also have video tours of every neighborhood in each community.
Our interactive maps will provide the following:
Neighborhood Name and Description
Neighborhood and Street Home Count
Models Names
Square Footage of Each Model
Bedrooms In Each Model
Baths In Each Model
Levels of the Homes
Builder Names
Video Tour Link
Free Neighborhood Tour Maps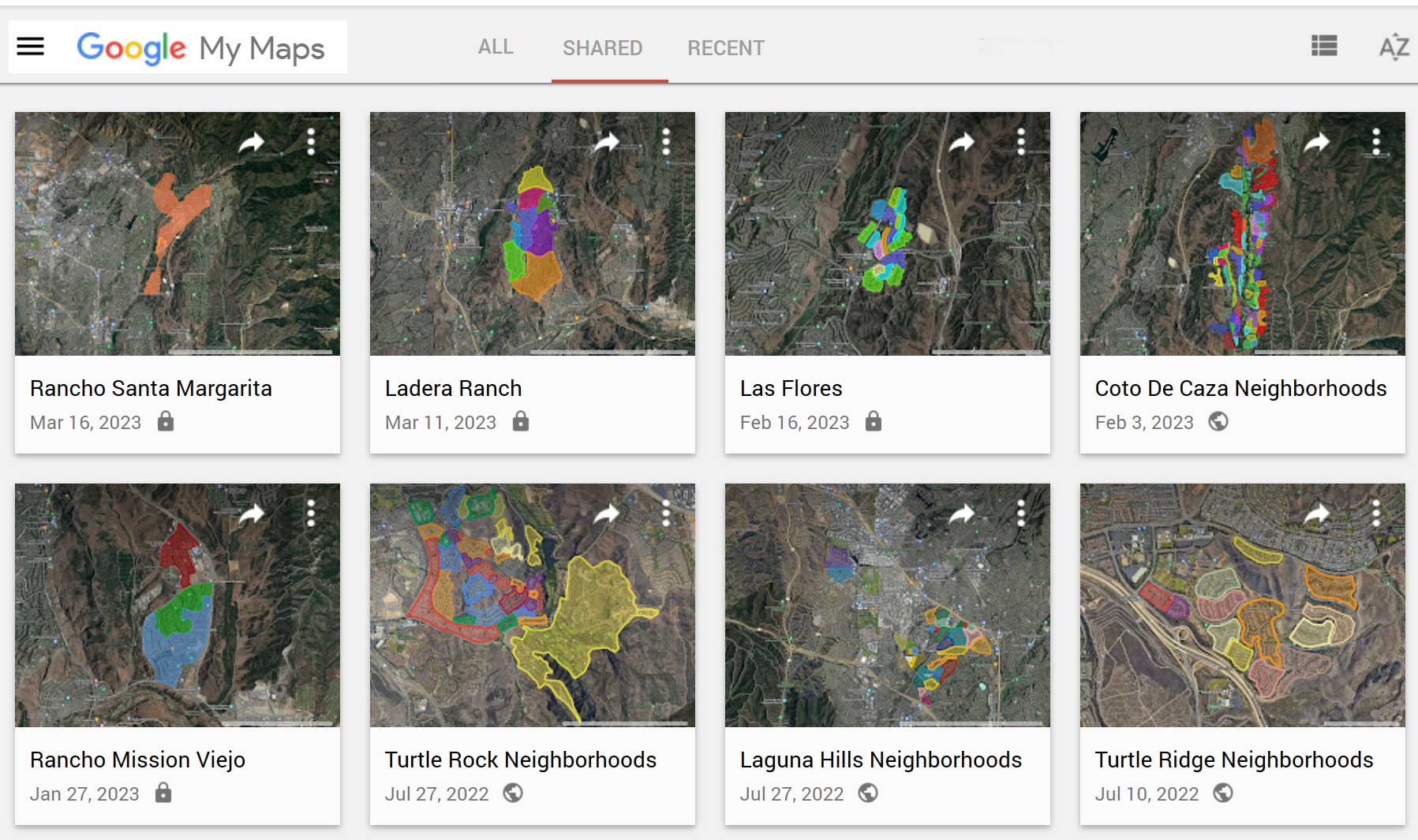 Orange County Things To Do
Orange County is one of the most vibrant and diverse areas in Southern California. With a population of over 3 million people, it has some of the most exciting neighborhoods anywhere in Southern California. To explore the many delights that Orange County has to offer, it is essential to have access to community maps that highlight the unique character of each neighborhood as featured with our Neighborhood Tour Maps.
One of the best resources for discovering the distinct neighborhoods of Orange County is this website. The website is a project of the Grant Loel, Realtor and provides interactive maps that highlight the culture, history, and character of each neighborhood featured. If you would like to suggest a neighborhood or community to tour click here and put yoursuggestions in the comments.
Popular Beaches
For instance, did you know that Newport Beach has a popular surfing spot called "The Wedge"? This wedge-shaped wave formation is created by the jetty at the entrance to Newport Harbor and attracts surfers from all over the world. This website provides detailed information on this and other popular Newport Beach attractions.
Seasonal Shoppinig
Another exciting feature of this website is its emphasis on community neighborhoods. For example, the site provides information on Ladera Ranch and its weekly farmers market. Taking Crown Valley Parkway west for 7.5 miles will take you to Laguna Beach and the home of Festival of Arts and the Pageant of the Masters, which features a festival art show, live music, and hands-on workshops. This festival is one of the most popular events in the region and is a must-visit for art lovers.
Online Resources
This website also highlights some of the unique culinary experiences that Orange County has to offer. For example, the site provides information on Little Saigon in Westminster, which is the largest Vietnamese community in the United States. Visitors to Little Saigon can experience authentic Vietnamese cuisine, including pho, banh mi, and bun bo hue. The website provides links to maps that highlight the various restaurants, markets, and shops in the area.
In addition to highlighting the various neighborhoods and their unique features, this website also provides resources for residents and visitors. For example, the site provides information on public transportation options, including bus and train routes. It also provides links to local business and government websites, which can be helpful for residents who need to access city services or find information on local events.
This website is an excellent resource for anyone looking to explore the many neighborhoods of Orange County. With its interactive maps, detailed information on local attractions, and resources for residents and visitors, it is a comprehensive guide to this vibrant and exciting community.
If you want to explore Orange County Community Maps further click on Neighborhood Tour Maps and check out our interactive maps and neighborhood videos. You can also follow us on social media, including Facebook, Youtube and Twitter, to stay up-to-date on the latest community news and events.